Welcome Friends!
I'm so glad to have you here. My name is Rosa. I live in Huntersville, NC and work as a jeweler, architect, and artist.
For my work, I draw upon my background in architecture to craft visually striking, 3D wearable objects. I specialize in using reclaimed and unconventional materials, which allows me to explore new and exciting techniques in sculpture and design.
Collections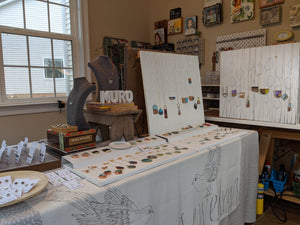 About Us
Welcome to Muro, a small women-owned business that was founded in 2015 after more than 20 years of experimenting and creating. My name is Rosa, and I am the founder of Muro. After leaving my career as an architect, I discovered my passion for creating modern jewelry by combining my training in architecture with the exploration of unusual materials like reclaimed wood and resin. I take great pride in every piece that we make, and strive for the highest standard of finishing. At Muro, we are a team of dedicated individuals who are committed to bringing our customers the best possible products and experience. In addition to myself, the Muro team includes my husband Ruben, who played an instrumental role in making our vision a reality, and Adriana, who keeps us organized and ensures that even the tightest deadlines are met. Our hope is that you will find something that speaks to you here at Muro, not only because of its beauty, but because you can appreciate the thought and skill that goes into every piece. Thank you for choosing Muro!